Electric Vehicles (EV) are the future of global transportation. With increasing focus on the environment and the need to decarbonize transportation through zero-emission vehicles, efforts are to provide clean electricity through renewable energy like wind and solar energy and commercial energy storage.
Also, the high volatility of oil prices and lower margins are forcing companies to shift to a renewable energy source to supply clean electricity. However, shifting to renewable energy is still not 100 % possible due to the intermittent supply of solar and wind energy. The present target is to keep the electricity grid mix to around 33 % for renewable energy. 
Most European countries are already phasing out the internal combustion engine and switching over to Battery Electric Vehicles (BEV) to achieve zero-emission norms and comply with the Paris climate agreement. 
The Basics Of EV
An electric vehicle, also known as a plug-in electric vehicle, runs on electricity and has the capacity to travel 88-100 miles on a single charge. When the battery is depleted, it takes around 30 minutes to   4-5 hours to charge depending on the type of power supply, which is rapid, fast, or slow (level 1) charging. 
EV gets their power from the electricity supplied from the electric grid, and then they are stored in the battery. The advantages of an EV are that they are less emission and more efficient. 95 % of the energy is used for movement only. The rest 5 % is consumed for heat and noise than the conventional car, which is 30 %.
Charging of EV will be as simple as plugging into the electricity socket of a dedicated public charger point or simple wall socket in the home. The same socket allows us to use our electronic equipment. Another critical benefit is the lower operating costs. A full battery charge would be cheaper than a single tank of gasoline.  
The disadvantage at present for EV is that it is more expensive than a conventional car. Due to the lack of enough infrastructure for public fast-charging outlets, people are still reluctant to switch over. However, with demand for EVs still in nascent stages, optimism is high, as potential synergy among three important clean energy technologies: renewables, commercial energy storage, and using electric vehicles as mobile power storage, will eliminate the need to build costly stationary renewable energy grids to a great extent.
The Indian EV Start-Up Story 
Coming closer home, India is moving at a rapid pace towards electric vehicles as a part of the government's drive towards a sustainable future. From a mere 56000 electric vehicles, including two-wheelers, three-wheelers, and cars sold in 2017 18, India sold 3.80 lacs electric vehicle in 2019-20, while buyers interest remains high and growing. 
With rising oil prices coupled with a weakening rupee vis a vis the USD, the centre stage of most discussions today is how to reduce the dependency on oil as a fuel and cut down on pollution. As we all know, India is a signatory to the Paris global climate control agreement.
India's commitment is to reduce carbon emission by 33 to 35% from the 2005 levels.  Keeping the commitment in mind, India has increased its installed renewable energy capacity to 89 GW, up by 226% in the past five years. It has a target of achieving 450 gw by 2030. To keep this synergy intact, it is but natural that India is moving towards renewable energy-driven cars. Going by the number of EV start-ups that have made headlines, it seems India is on track. 
Some of the key EV start-ups have grabbed headlines recently. 
The electric vehicle subsidiary of the ride-sharing giant Ola is in the process of setting up the world's largest electric two-wheeler manufacturing facility in Tamil Nadu. They are projecting to produce 10 million vehicles annually. They are reportedly in talks with investment companies such as Soft Bank, Temasek, and Tiger Global.

 

The US-based Triton EV is on the verge of setting up its EV, including cars in the southern state of India, Karnataka.  This is after Tesla, the world's largest EV manufacturer, set up an R&D centre in the tech city, Bangalore before they foray into EV manufacturing in India. 
India's largest company, Reliance Industries, is planning to manufacture Batteries for electric vehicles. This product is the key to a clean and green energy source. In the future, EVs will also become the source of Home batteries. These storage batteries can store the energy generated by solar panels during the day and at night. When one is not driving the EV, it becomes source power for the drawing-room. 

Other existing automotive giants such as Maruti, Tata, and Hyundai are already ramping up EV production. 

Blivive, a Goa-based EV-based tourism platform, has raised initial funding of 40 million INR from an entertainment company Mumbai Angels Network. The funds will be used for market expansions across ten new locations in the next year. 
India's 80% of EV is interestingly the e-rickshaws today. Delhi-based electric mobility start-up company; Battery Smart provides a two-minute swapping facility of lithium-ion batteries to e-rickshaw owners. As battery charging takes a charging time of 8-10 hours and purchasing new batteries costs are high, this service solution is an answer to the e-rickshaw owners. They have raised undisclosed seed funding from India's leading VC fund,

Orios Venture Partners, and angel investor Faad Network.

A recent survey by Omnicom Media Group and Cardekho.com found that nearly 66% of the customers were inclined towards buying electric vehicles if the infrastructure such as public electric charging stations were available.
The Indian Government Thrust 
The Indian government is planning to offer over 8 billion USD   to EV manufacturers as incentives. As per the transportation minister, plans are to manufacture 100% lithium batteries, an integral part of the EV. India has a rich natural resource of aluminum, zinc, sodium, and research to explore how these materials can be used to make EV batteries.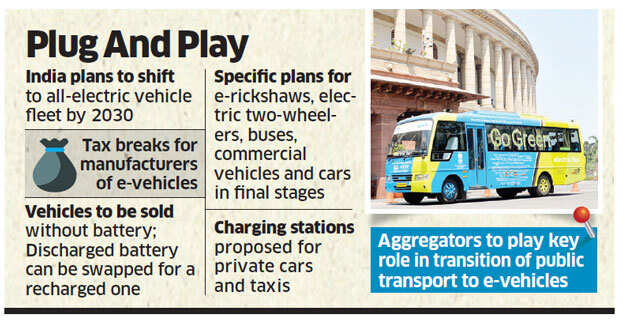 On the financial front, the Union Budget has provided tax subsidies to buy EVs. Income Tax deduction of up to Rupees 1.50 lacs is provided on interest paid for EV loans by taxpayers. 
The government launched projects such as FAME (manufacturing of Hybrid and Electric vehicles) and National Electric Mobility Mission Plan 2020 to adopt Electric vehicles.   
Market Outlook 
India's automotive industry is the fifth-largest in the world and expects to become the third-largest by 2030. With a vast domestic market to cater to and conventional fuel not looking viable in the near future owing to price volatility and environmental issue, EV is the only answer.  India's policymaker has set an ambitious target of achieving 100 per cent electrification by 2030. 
India is sitting in an advantageous position when it comes to shifting towards electric vehicles. It already has an abundance of renewable energy resources and skilled manpower in the manufacturing and technology sectors. The EV market is projected at $206 billion if India meets its 2030 targets.  In order to achieve this massive target, an investment of $180 billion will be required for vehicle production and other infrastructure costs.